Remedial Massage In Success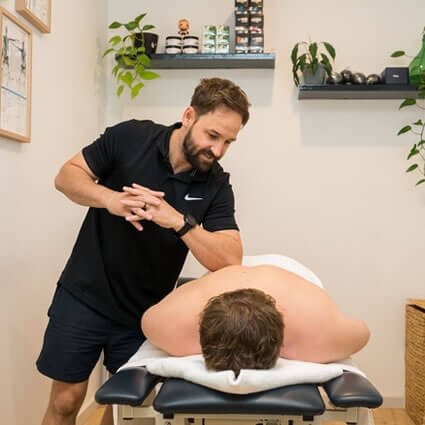 Massage has been practised for thousands of years. There are numerous styles using various pressures, movements, and techniques. All involve pressing, rubbing or manipulating muscles and other soft tissues with the hands and fingers.
The health benefits available from remedial massage are many. More people are incorporating it into their wellness routine and helping relieve suffering from an injury.
Chiropractic and Massage
At Success Chiropractic, we have seen the benefit of combining chiropractic and remedial massage for our patients. Both offer hands-on, drug-free techniques that may be used as preventative and restorative therapies.
When used before chiropractic, massage loosens the restricted joint, allowing the adjustment to reach deeper and hold longer. After an adjustment, massage may relieve any muscle soreness, and increase circulation, sending more healing elements to the affected area.
NEW PATIENTS »

Massage May Help
Remedial massage may be beneficial in the management of many musculoskeletal complaints by reducing muscle tension, improving circulation, and increasing joint flexibility and movement. Some conditions our patients have found relief from include:
Headaches
Sporting injuries
Muscle tightness
Nerve-related issues and more
Types of Massage
We are pleased to offer pregnancy massage with the use of our unique tables and pregnancy pillows for your ultimate comfort. Our therapists may use other types of massage, such as deep tissue, myofascial release, dry needling, myofascial cupping, Swedish, trigger point, and mobilisation techniques. Head to our practitioners page to learn more about our current remedial therapists, Callan, Leah, and Rachel.
Availability and Pricing
For your convenience, you may book your massage online.
Appointments are available:
Pricing is as follows:
60 minutes: $105
45 minutes: $85
30 minutes: $70
Our therapists offer the care you need to return to doing the activities you enjoy. Experience it for yourself!
Ready to Book?
Remedial massage may help get the results you want and deserve. Contact us today to make an appointment. We're looking forward to meeting you.

Remedial Massage Success, Yangebup, Cockburn, WA | 08 9417 4004