What's Causing Your Headaches?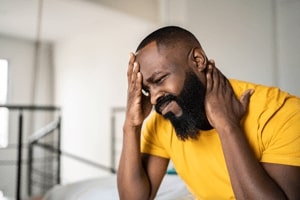 Frequent headaches may be common, but they aren't normal. If you suffer from them frequently, there are a few common causes that you should be aware of.
1. Dehydration: Dehydration causes your blood vessels to constrict, which can lead to pain.
2. Caffeine withdrawal: If you regularly drink caffeinated beverages and then suddenly stop, you may experience caffeine withdrawal headaches. These can be excruciating and may last for several days.
3. Skipping meals: If you go too long without eating, your blood sugar can drop, resulting in a headache.
4. Eye strain: Staring at a computer screen or other digital device for long periods of time can cause eye strain, resulting in a tense head and neck.
5. Spinal Dysfunction: Restricted joint in the neck, assoicated with tight surrounding muscles can often result in headaches. Find out how an adjustment, dry needling and soft tissue treatments can help by booking a visit with us.